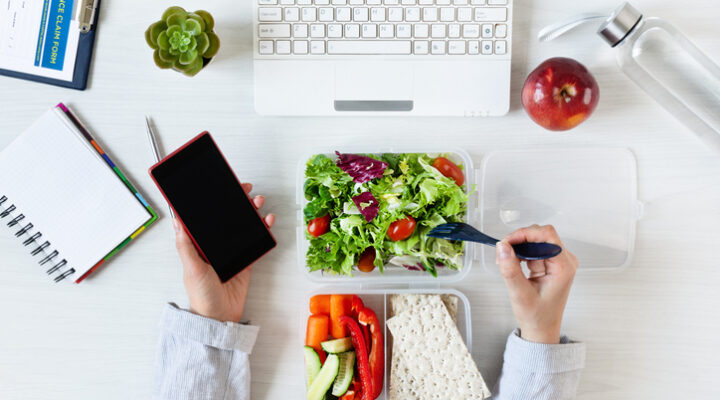 The scientific formula for losing weight is simple. If you eat fewer calories than you burn every day, you'll start losing weight immediately. Nothing complex there. But in the larger context of life, weight loss is a bit more complicated. The busy lives we live often lead us to make unhealthy choices like skipping exercise and eating junk food. Sure, you could move to a farm and only eat what you grow, and yes, you'd probably lose weight. There are, however, less drastic changes you can make to support your weight loss goals while still enjoying the modern conveniences of life. Grocery shopping online is a wonderful modern convenience that can help you lose weight. Here's how.
Saves time – If you're having a hard time fitting exercise into your life, grocery shopping online is a great way to make some room in your schedule. You can load up your grocery cart throughout the week as you run out of items at home or think of new recipes to try. Then, when you're ready for a delivery, all you have to do is checkout and schedule a delivery time. No parking, driving, or waiting in a checkout line required. If you're serious about losing weight, put that extra time toward exercising, rather than toward work or other obligations.
Saves money – One way you can save money by grocery shopping online is to take advantage of online-only sales. It's also much easier to buy things in bulk when they're delivered to your home. Bulk usually saves quite a bit of money as well. But there are other ways you'll save by shopping online that won't show up on your grocery bill. Gas, wear-and-tear on your car, and that coffee you always buy to make the grocery shopping trip just a little less tedious. When you're not spending money on these things every week, the savings add up. If you use these savings to purchase a new Vitamix or some other kitchen appliance, you can use it to enjoy healthy foods for weight loss.
Easier to avoid impulse purchases – Grocery stores are full of hunger-triggers. The cookie and cake displays are deliberately enticing. The grocery carts keep getting bigger so you want to keep filling them. And the alcohol aisles are growing too. If you're struggling to lose weight and are just starting to wean yourself off of calorie dense foods, a trip to the grocery store can be a white-knuckle experience. When you shop for your groceries online, the tempting items are much less tempting. Instead, they're just tiny little digital pictures that are much easier to avoid and less likely to trigger behaviors that don't support your weight loss goals.
Easy replenish for weight-loss medications – When it comes to buying weight-loss medications online, we'll start first by saying it's important to use only doctor-approved supplements. There are some sketchy companies out there that make big promises but have no science to back them up and could even be selling products that are dangerous to your health. However, purchasing doctor-approved vitamins and supplements online is usually a good idea for two reasons. 1) Brick-and-mortar stores don't always have a complete stock, so you're more likely to find your favorite vitamins online, and 2) The auto-replenish option is a game-changer. If you buy your vitamins, supplements, or weight-loss medications online and choose auto-replenish at checkout, you'll never run out again.
Changing your lifestyle habits is one of the keys to losing weight and keeping it off. Online grocery shopping is not just convenient. It saves you time and money, and it helps keep you on track to losing weight and revealing a slimmer, trimmer, happier you.
Try the 10x online doctor-supported weight loss program today!
When you join the 10x doctor supported online program, you'll have access to safe, effective weight loss medication that's only available through a doctor's prescription. These medications will help curb your appetite while you focus on making healthy lifestyle changes. We'll teach you how to read food labels to lose weight, so you can grocery shop for weight loss and eat the foods for which your body was designed. Through 10x, you'll learn specific strategies for burning extra fat so you become lean. Our goal is to provide you with everything you need to lose weight and maintain a healthy weight for life. Join 10x today!