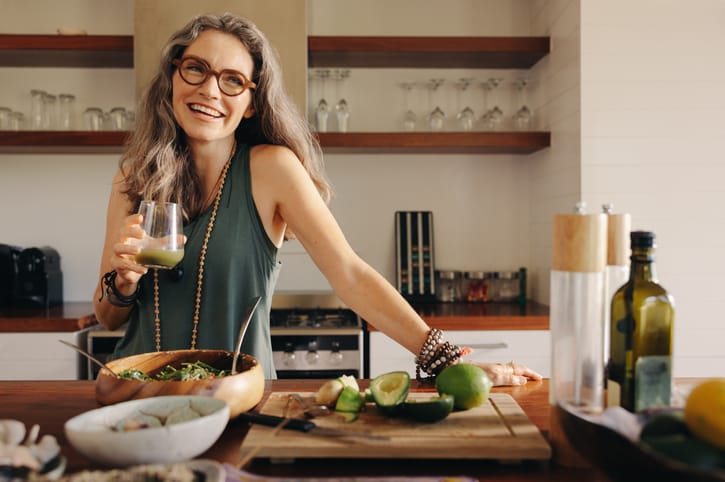 We all know it's much easier to gain weight than it is to lose it. The diet industry is built around false promises of quick weight loss that are so easy to fall for. The problem is even when these fad diets do work, they usually aren't sustainable, so the weight comes right back. So what is the best diet for quick weight loss? There must be one, right? Well, yes, but let's start by looking at the components of a healthy diet for weight loss.
What is the best healthy diet for weight loss?
The best healthy diet for weight loss is a balanced and sustainable diet that includes a variety of nutrient dense foods, is low in processed foods and added sugars, and creates a calorie deficit. The key principles include:
A variety of whole foods from all food groups, including fruits, vegetables, lean proteins, whole grains and healthy fats.
To lose weight, you need to burn more calories than you consume. If you reduce your calorie intake by 500-750 calories per day, you'll lose 1-2 pounds per week, which is recommended for sustained weight loss. But for rapid weight loss, you may need to restrict your calories further, at least for a limited period of time.
Processed foods are often high in calories, added sugars and unhealthy fats. Studies show that processed diets cause excess calorie intake and weight gain. Focus on whole, minimally processed foods instead.
Added sugars provide empty calories that can contribute to weight gain. Evidence shows that a reduction in sugar intake is directly linked to weight loss.
Protein can help you feel full and satisfied, which reduces cravings and overeating. Scientific studies also connect the role of protein in weight loss and weight maintenance to improved metabolism and a more trim waistline.
Drinking water throughout the day will not only help you stay hydrated and keep feelings of hunger at bay, but it can also boost your metabolism. When you drink a glass of cold water, it increases your metabolism by up to 25% for 40-60 minutes.
As long as a diet includes the above components, it can be adjusted for weight maintenance or more rapid weight loss.
What's the best diet for rapid weight loss?
It's important to note that rapid weight loss is not always healthy or sustainable. Generally, a weight loss rate of 1-2 pounds per week is considered safe and sustainable. However, if you are looking for a diet plan that may result in rapid weight loss, it's best to work with a medical professional who can ensure that you stay safe and healthy while you shed the weight. Here are some of the best diets for rapid weight loss.
Very Low-Calorie Diets (VLCDs)
VLCDs typically provide around 800 calories per day and are designed for rapid weight loss in people with a BMI over 30. These diets are very aggressive and often involve meal replacements such as shakes or nutrient bars. They tend to be best for people whose obesity is having an acute effect on their health and should only be done under the supervision of a healthcare professional. One drawback is that without additional behavior modification, VLCDs are not sustainable strategies for long-term weight management.
The ketogenic diet is a high-fat, moderate protein, low-carbohydrate diet that puts the body into a state of ketosis, where it burns fat for energy instead of glucose. It takes a couple of weeks on the diet for the fat-burning to start, but when it does, the weight begins to come off quickly. Like the VLCDs, however, the Keto diet is not recommended over the long-term and should be attempted only under the care of a doctor.
10X Diet is a low-carb, high-protein, doctor-supported weight loss program that includes whole foods, a calorie deficit, limited process foods, limited sugars, and weight loss medication to help curb the cravings while you learn to make healthy lifestyle choices that support your weight loss goals. In other words, it includes everything you need to lose weight and keep it off for good. The 10X Diet program teaches you how to shop and cook in a way that helps you feel full, stay full, increase your metabolism, and burn fat instead of muscle. You'll also be under the care of a doctor who can help ensure that you're losing weight the healthy way.
Intermittent fasting isn't really a diet. It's more a pattern of eating that involves alternating periods of fasting. During a fasted state, the body uses stored fat for energy. Intermittent fasting helps to lower insulin resistance and improve metabolism. To lose weight quickly, try combining 10X with intermittent fasting!
It's important to remember that rapid weight loss may not be sustainable in the long-term and can have negative health consequences. It's essential to choose a diet plan that is balanced, healthy, and sustainable for you in the long-term. Always consult with a healthcare professional before starting any diet plan.
How to pick the best diet plan for you
Choosing the best diet plan for you can be a personal decision and is best done with the support of a doctor. Here are some steps to help you pick the best diet plan for you:
Determine what you hope to achieve with a diet plan. Are you looking to lose weight, improve your overall health, manage a medical condition, or increase energy levels?
Think about your daily routine, food preferences, and cooking skills. Choose a diet plan that fits your lifestyle and is sustainable for you in the long-term.
Consult a healthcare professional
Talk to your healthcare provider or a registered dietitian to determine what dietary approach may be best for you, especially if you have any medical conditions or concerns.
Research different diet plans and consider the evidence-based research behind them. Look for diets that emphasize whole, minimally processed foods and limit added sugars and unhealthy fats.
Experiment with different diets and track how you feel physically and mentally. Consider how easy or difficult it is to stick to the plan and if it aligns with your personal values.
Remember, there is no one-size-fits-all approach to nutrition. It's essential to choose a diet plan that is personalized, sustainable, and meets your individual needs and goals. Working with a doctor is a great way to start off in the right direction. The 10X Diet program is doctor-supported, so you can feel good knowing you'll have someone monitoring your health and ensuring that you're losing weight in a healthy, sustainable way.
If you're ready to lose weight, we encourage you to start by joining 10X Diet today!