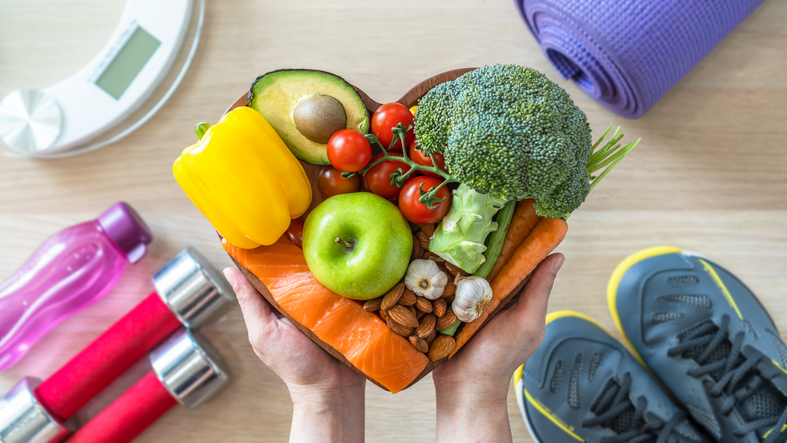 Diet and exercise. They go together like peanut butter and jelly. At least that's what we're told. But how exactly do they go together? Are diet and exercise equally important? Do you have to do both? If you eat junk food and work out, will you still lose weight? If weight loss is one of your goals for 2023, what you learn here may be the secret to shedding pounds and keeping them off for good. Read on for more information about the role of fitness and diet for losing weight.
What is the relationship between diet and fitness?
Diet and fitness are a great combination if your goal is healthy, sustainable weight loss. A healthy diet provides you with the nutrients you need to stay strong and healthy and the energy you need to stay active throughout the day. In order to lose weight, you have to consume even nutritious foods in quantities that provide you with fewer calories than you burn in a day. As you burn more calories than you consume, your body will burn fat and you'll lose weight.
If you create too large a calorie deficit and starve yourself of the nutrition you need, however, your body will fight back by trying to conserve the energy in your fat cells. You will end up burning more muscle and less fat. If you eat healthy amounts of the nutritious foods your body needs you will burn fat instead of muscle.
A regular fitness routine will not only help you burn additional calories while you're actively exercising, but it can also help increase your metabolism so you burn more calories when you're at rest. Weight bearing exercise helps you build muscle, which requires more calories to maintain than fat. By combining diet, cardio, and weight bearing exercise, you'll lose weight quickly, and stay lean for the long-term.
Although it is possible to exercise without a healthy diet, it will not help you lose weight. Similarly, you can lose weight without exercising as long as you eat fewer calories than you burn, but you may remain flabby and lack muscle tone. Combining diet and exercise results in a lean, toned appearance that looks great in and out of clothes.
What are the benefits of diet?
For some people, "diet" is a four-letter word that brings to mind deprivation, hunger, misery. And honestly, most fad diets do deprive you of nutrition and leave you feeling empty and ravenous. A healthy, nutritious diet is not about deprivation—instead, it's about providing your body with the nourishment it needs to keep you feeling energized, empowered, and satisfied. When you eat sufficient amounts of healthy foods to sustain your energy and keep you moving and feeling good, you'll benefit in numerous ways. In addition to weight loss, a nutritious diet can:
Increase mobility
Improve digestion
Strengthen teeth and bones
Boost immune system
Support skin health
Reduce stress
Improve sleep quality
Prevent heart disease
Increase life expectancy
Losing weight has social benefits as well. The more comfortable and confident you feel in your body, the more attractive and approachable you'll appear to others. Confidence really is sexy.
How 10x Diet can help you lose weight and keep it off
Losing weight is simple but it's not always easy. Letting go of old habits can be challenging. But with the 10x Diet, you'll receive doctor-prescribed weight loss medication to help curb your appetite while you learn to establish healthy new habits. We'll teach you a few simple easy-to-follow formulas so you learn to eat the foods for which your body was designed. The medication will help support you as your body adjusts to the new way of eating. By following the 10x guidelines, you can lose 7 pounds in the first week!
If you're ready to shed those extra pounds and keep them off for good, join 10x today!