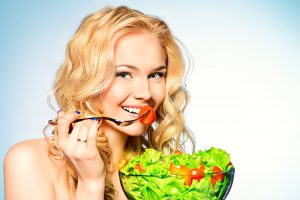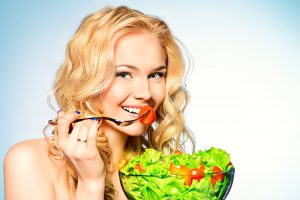 If your diet is healthy, you'll be lean, active, and attractive. A healthy diet includes foods your body was designed to eat. Your body was engineered long before you were born. You inherited the design from a blueprint that developed over millions of years for survival in a totally different environment from the one you now live in. There weren't convenience stores, beer, and take-out pizza. There weren't amber waves of grain, because agriculture hadn't been invented. Ours is the physiology of hunter-gatherers. Energy our ancestral forebears were resourceful enough to find and consume had to be stored in their body as fuel to sustain them through drought, through famine, and through other difficult conditions. Fat is nature's way to store fuel in our body, and our metabolic machinery is designed to store every bit of excess consumed energy as fat. If you're carrying too much body weight, it is fat. The remainder of your body (water, protein, and mineral content) is the functioning part, which you absolutely need.
Evolution bestowed upon you an infatuation for energy dense foods, because evolution didn't anticipate soft drinks, ice cream, cookies, cupcakes, doughnuts, french fries, pasta, or breakfast cereals. 10X eliminates that infatuation, and switches your metabolism to burn the burden of extra fuel (fat) you're carrying. On 10X, your body oxidizes and eliminates your extra fat. You'll learn how to select, buy, and consume food to promote your own health for life. This knowledge allows you to maintain your healthy weight once you achieve it.
During the first stage (weight loss), you burn more energy every day than you consume. This continues until you're at your desired weight and body composition. During the second stage (weight maintenance), your daily energy burn ("energy expenditure") equals your daily energy consumption (calories eaten). By this time, you know what eating healthy is, you're in control, you're doing it, and it's pretty easy.
10X.diet gets you through BOTH STAGES. If you're like many happy 10X dieters, you'll appreciate how easy it can be to lose weight. You'll enjoy eating healthy and your leaner body.