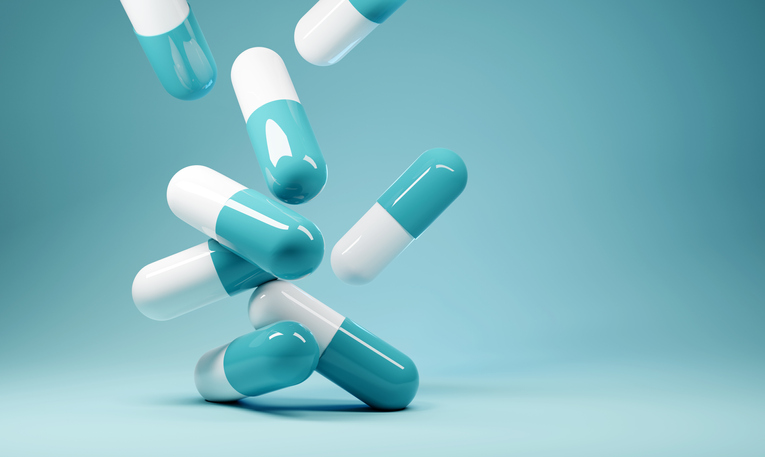 The Internet has done so much good for modern communication, but it has also unleashed countless scams about so-called weight loss supplements, ridiculous fitness gimmicks, and dangerous diet programs created by fraudsters. People who spend time on the Internet in search of new ways to lose weight often become targets for ad campaigns featuring all sorts of empty weight loss promises. If you're looking to shed a few pounds and an ad for a new weight loss pill pops up on your computer screen, take a pause before you click the link or make a purchase. If you're a good candidate for medication, then the best path to a slimmer, trimmer you is to work with a real doctor who will ensure that you're getting weight loss pills that actually work.
Weight loss pills that actually work
Shedding pounds and keeping the weight off typically requires making significant changes to diet and exercise habits. While the formula is simple (eat less and move more), it's not always easy. For lifestyle changes to stick, the individual often has to overcome psychological obstacles that stand between letting go of unhealthy habits and replacing them with healthy ones. The 10x Diet is a doctor-supported weight loss program that provides members with access to safe and effective medication that can help jumpstart their weight loss while they learn to incorporate healthy habits into their daily life. Often, the success of a few pounds shed can unblock those psychological obstacles and set the mind towards achieving a weight loss goal. At 10x, the weight loss medications we offer vary depending on the specific needs of the individual, but in general, here are some common weight loss pills that actually work.
Phentermine
Phentermine is an effective appetite suppressant medication that blocks hunger signals and increases energy levels. It can not only help the individual eat less, but also tends to provide a boost of motivation for exercise and movement. Because Phentermine works in a similar way as amphetamines and acts as a stimulant, it is not recommended for those with a history of heart disease, stroke, or uncontrolled high blood pressure.
Cost: $ per 30-day supply
Qsymia
Qsymia is one of the most effective weight loss medications available. Many consider it the very best. By combining Phentermine and Topiramate for a two-pronged approach to weight-loss, Qsymia addresses both hunger and cravings. The extended-release formula works all day, and is FDA-approved for chronic weight management for those who are obese or overweight and have weight-related conditions, such as diabetes, sleep apnea, or hypertension.
Cost: $ per 30-day supply
Contrave
Like Qsymia, Contrave combines two medications to address both hunger and cravings. The antidepressant, Bupropion, decreases appetite, and Naltrexone, an opioid receptor antagonist, helps curb cravings. When used on their own, these medications are used to treat psychiatric conditions, but when combined in Contrave, they help shed pounds. Contrave, however, is not intended to treat any psychiatric conditions.
Cost: $ per 30-day supply
Orlistat
Orlistat helps to decrease fat absorption in the gastro-intestinal tract. It works by binding to fat from food, blocking the chemical enzymes responsible for digesting the fat and absorbing it into the bloodstream. Instead of storing that fat in your body, you pass it out as waste. Orlistat reduces fat absorption by 33%-37%. Orlistat is a generic prescription medication. Xenical is the branded version that works identically and absorbs the same amount of fat. Alli is the over-the-counter version that contains half the dosage. It's important to note that none of the medications in this family suppress the appetite or curb cravings.
Cost: $ per 30-day supply
If you're looking to lose weight and keep it off, you'll need more than just weight-loss medication. All the weight loss pills on this list are intended for use in conjunction with a healthy diet and exercise routine. But for many people this means a complete overhaul of a busy life: from learning how to grocery shop and cook in a new way, to discovering healthy and delicious local restaurants and designing a more active lifestyle. It can seem daunting, especially if you're doing it on your own. You don't have to. 10x is here for you.
Join the 10x doctor-supported weight loss program today!
When you join the 10x Weight Loss Program, you get access to safe and effective doctor-prescribed weight loss medication to prevent hunger so you eat less but feel satisfied. But you'll also get so much more, including easy-to-understand dietary guidelines, simple formulas for reading food labels, daily text or email notifications to help you choose 10x foods, and full-time online support from 10x medical staff. The 10x Weight Loss Program helps take the guesswork out of losing weight, making it simple to incorporate healthy changes into your busy life so you can slim down, get lean, stay lean, and love the way you look and feel.