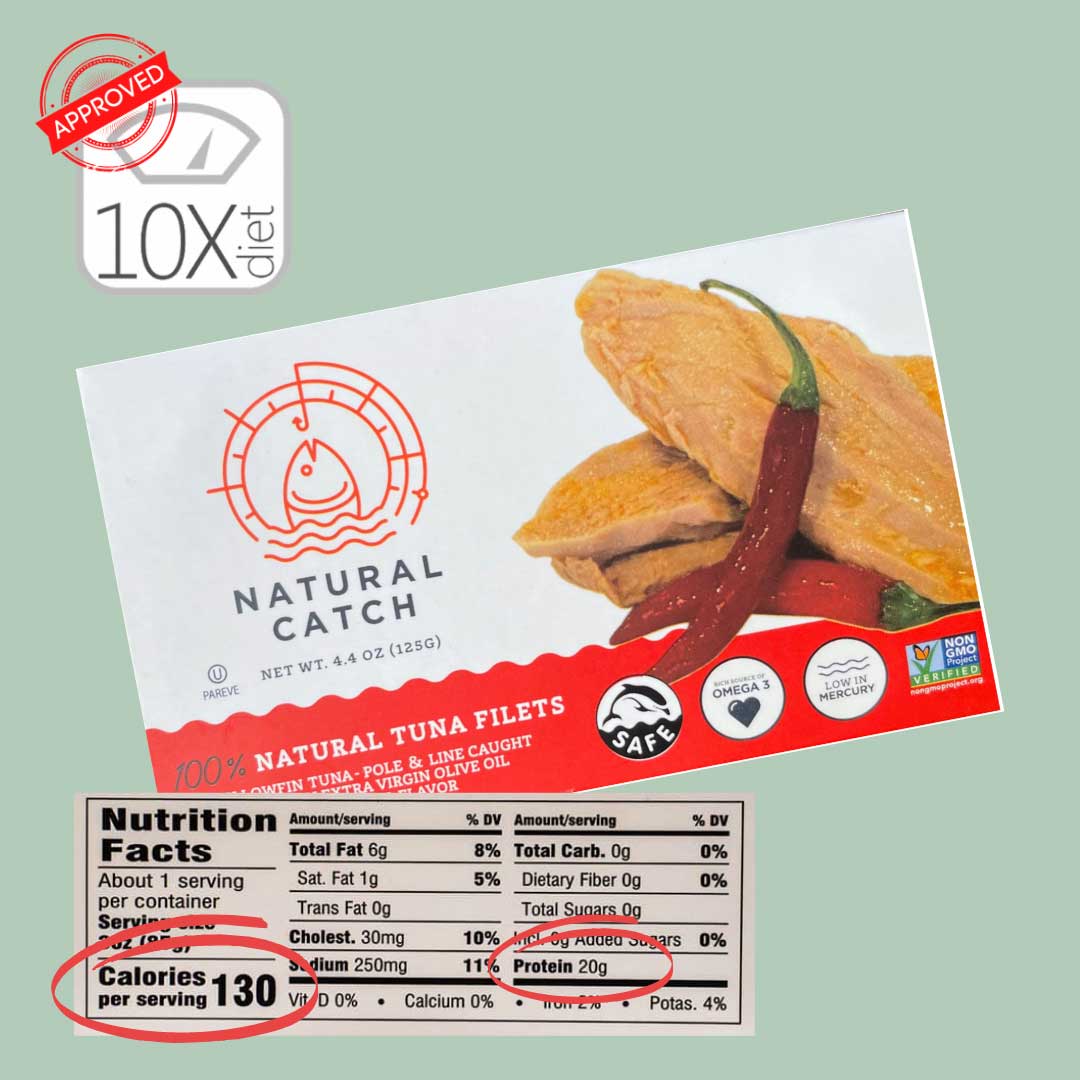 Why does maintaining a reduced healthy body weight seem more difficult than losing extra weight? Maintaining reduced weight requires prolonged change in habits and lifestyle. Transient weight loss only demands temporary focus and discipline. For many, long term adoption of an austere diet is not sustainable. However, choosing food items correctly is easier than ever, thanks to Nutrition Facts labels on every packaged food. Foods without labels like produce, meats, and fish can be searched on Nutritionix or Google "Nutrition Facts," and enter the name of the food item. Understanding categories and numbers on the Nutrition Facts label prepares you to maintain a healthy weight for life.
Nutrition Facts Food Item labels offer much more information than calories per serving, the most frequently referenced data point. Although the number of calories in the food item is posted large and bold, calories are important mainly in the context of other quantities on the label, and the function of that item in your diet. Successful transitioning to long term healthy relationship with food is easier for those with a better grasp of Nutrition Facts. RELAX, it's not so difficult or complicated!
One of our passions at 10x.diet is to promote basic health skills: How to shop lean, eat lean, and enjoy lean for the fittest, trimmest you. Let's start here with an introduction to how content on Nutrition Facts (food labels) may help you lose weight forever.
Calories – The 10x approach
To stay satisfied and meet the needs of your body for structural protein, food choices should contain protein content. To allow your body to meet its energy needs from extra storage that you wish to lose (fat), the energy (calories) you consume should be limited. Combining these two fundamental truths, the healthiest weight loss diet continues building your body and simultaneously burns your fat (stored fuel) burden to meet your constant demand for energy. 10x diet is built upon this premise, and induces weight loss by restricting intake to the large number and variety of foods with a value per serving of calories equal to or less than 10 times the grams of protein per serving. The formula is simple: Multiply the protein grams on the Nutrition Facts label by 10. If the number of calories per serving is less than that number, the food is 10x. 10x foods include most or all fat-free dairy items (milk, cheese, yogurt, cottage cheese), meat and poultry (beef, chicken, turkey, pork), most fish, egg whites, all green vegetables, and specialty diet foods. The availability of food ingredients such as fiber, erythritol, monk fruit, stevia, and others has been exploited by many producers to market 10x chips, breads, desserts, and other items that make the weight loss experience easier than ever. No corn, no rice, no potatoes, no traditional breads or sweets, and no sugar.
Reduce and control portion size
Calories on your food label (Nutrition Facts) may be deceptive. Industrial food producers are aware of consumer habits. Because health conscious shoppers look for lower numbers in the calorie row and may not look beyond that number, marketers sometimes package the item and adjust the label to seem low-calorie. For example, a carbohydrates only snack bag may read 90 calories so it appears at a glance to be a safe snack for weight control. However, serving size is an important related value. If the bag is small and contains four servings, consuming that bag is a 360 calorie insult. All nutrition facts values should be interpreted with respect to portion size.
Be aware of net carbs
Carbohydrates are immediately available energy, and if not immediately burned by the body for energy will be converted to fat and stored away for future use during famine, starvation, or when food is not available. Strictly limiting carbohydrate (sugar) intake allows the body to burn stored fat to meet your energy needs, and thus to lose weight. When you eat carbohydrates, fat burning stops instantly. No weight loss. Carbohydrates are toxic if you are trying to lose weight. However, food science has found specific carbohydrates that are not absorbed by the body (fiber), that do not stop the process of burning fat for energy (some sugar alcohols), and that when absorbed, are simply excreted rather than being stored away as fat (erythritol). These specific carbohydrates, when present in a food item, are listed on the Nutrition Facts label beneath total carbohydrates as fiber, as sugar alcohols, as erythritol, or as sugar alcohols). The grams of fiber, erythritol, and half the grams of sugar alcohols may be deducted from total grams of carbohydrates to provide a value for NET CARBOHYDRATE content. Net carbohydrate content is more important than total carbs, because that is what your body sees. Consuming a daily net carb load of 30-40 grams per day will promote weight loss for most people.
Avoid added sugars
Natural food is naturally sweet, and there's no need to add more sugar. If you're one of the many people for whom sugar cravings are a major obstacle to weight loss, then you'll want to pay careful attention to the added sugars on food labels. Excessive sugar not only leads to weight gain, but it also causes cravings for more sugar. So the more sugars in your diet, the more sugar cravings you'll have. The opposite is also true. The fewer sugars you eat, eventually, the fewer you'll want. If you buy unsweetened applesauce, for example, although it may not seem sweet enough at first, as you continue to eliminate added sugars from your diet, you'll find yourself satisfied by its natural sweetness. Avoiding added sugars can significantly aid in your weight loss.
Know your fats
Like carbohydrates, fats have a bad reputation left over from the 1980s. But we've since learned that while certain fats are bad for the body, some are actually good. Trans fats and saturated fats, such as those found in meat, cakes, and fried foods, are still best avoided altogether, if you're looking to lose weight. But monounsaturated fats and polyunsaturated fats are important. These "good fats" found in almonds, avocado, salmon, and walnuts, can help balance cholesterol levels, promote brain and heart health, and even prevent belly fat. This doesn't mean you should eat an avocado with every meal, but it does mean that you don't necessarily need to eliminate an item from your grocery cart just because the label says it contains some fat. Just remember to stay away from trans fats and saturated fats.
Lose weight and keep it off with 10x!
10x Diet is a doctor-supported weight loss program that gives you a roadmap for healthy living and access to safe, effective medication that's only available through a doctor's prescription. Whether you want to lose 30 pounds in 3 months or you just want to reset your relationship with food, join 10x today, and give yourself the gift of a healthier, slimmer you.