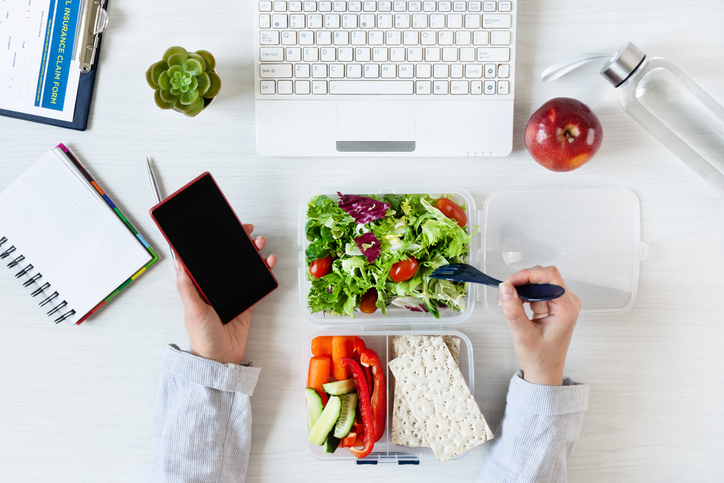 Sitting all day, snacking on vending machine foods, and eating take-out for lunch. It sounds like the perfect recipe for weight gain, doesn't it? For millions of people, their desk job is exactly that. Evidence shows that being sedentary for 7 to 10 hours per day, as many people with desk jobs are, is linked to an increase in health problems, including obesity. This doesn't mean you should quit your desk job in order to lose weight; it just means you'll need to be conscious about getting up and moving. And, of course, if weight loss is your goal, you'll need to pay attention to the foods you eat as well. Follow these 10 steps for losing weight with a desk job.
Exercise before work
Go for a run, lift weights at the gym, or take an online bootcamp class. Whatever type of exercise you like to do, try to do it before work. Exercising before work will get your endorphins going, so you'll feel good and be more likely to make healthy choices as the day goes on.
Eat a hearty breakfast
A healthy, hearty breakfast can start your day off right. If you typically grab a piece of toast on your way out the door in the morning, chances are you're so hungry at lunchtime that you'll eat just about anything. The quality of your food is important. Whole foods, rather than processed, will help fuel your body with the energy it needs to get up and move around. Healthy eating and movement are keys to losing weight with a desk job.
Cut back on sugar, fat, and simple carbs
Simple carbs, fat, and sugar, are all associated with weight gain and provide little to no nutritional value. They also spike your blood sugar levels and make you feel hungry sooner, so you're more likely to overeat and gain weight. In order to lose weight, stay away from cookies, candy, white bread, cake, french fries, soda, enriched or refined pasta, and white rice.
Eat more whole foods
Whole foods are those that are close to the way nature makes them, with minimal processing and no added sugars, flavoring, or manufactured ingredients. Fresh fruits and vegetables, whole grains, nuts and seeds, and lean proteins will fill you up and provide you with the vitamins, fiber and minerals you need without weighing you down with calories.
Get up and move as much as you can
Park far away from the building. Use the stairs instead of the elevator. Take the long way to the restroom. Offer to do a coffee run for your colleagues. Set a timer to remind yourself to get up and stretch or take a lap around the cubicles every hour. The more you move, the more calories you burn. And the more calories you burn, the quicker you lose weight.
Drink water or plain herbal tea
Drinking water or plain herbal tea throughout the day will hydrate your body and help to curb your hunger. Sodas and sugary drinks do add calories without any nutritional value. Even diet sodas, which contain no calories, have been linked to obesity because, according to some scientists, they stimulate hunger hormones.
Pack a healthy lunch
When you bring a healthy lunch to work instead of ordering out (or not eating at all), you ensure that you're getting the nutrition you need without the extra calories. A healthy lunch includes lean protein, fiber rich carbohydrates, veggies, and healthy fats. Stay away from processed foods, and pay attention to food labels to be sure you're eating only 10x-approved foods. If you're typically rushed in the morning, pack your lunch the night before.
Stand often
Standing desks, or height adjustable desks that allow you to work standing, have a number of health benefits that aid in weight loss. Standing burns more calories than sitting, lowers the risk of diabetes, and helps improve mood and energy levels. It's especially important to stand after lunch.
Keep healthy snacks on hand
If the vending machine is the only place to get a snack when you need one, you run the risk of adding empty calories and hindering your weight loss goals. Keeping healthy snacks in your desk or in the office refrigerator will help ensure that you have a nutritious alternative to the vending machine when hunger strikes.
Get sufficient sleep
Sleep and weight loss are closely linked for several reasons. Sleep increases metabolism, so getting sufficient sleep can help you burn more calories throughout the day. Lack of sleep increases appetite, so if you're not getting enough sleep, you might be eating more than you can burn in a day, which leads to weight gain. Additionally, losing sleep can also make you less likely to get exercise. If you have trouble sleeping, adding more exercise to your daytime routine may help, especially if you do it outdoors.
Telemedicine weight loss with 10x.diet
If you're struggling to lose weight, 10x.diet can help. Our online program provides you with the support of an experienced and highly regarded doctor and his medical staff. You'll receive safe and effective weight loss medications available only with a doctor's prescription as well as full-time online support to help you supercharge your metabolism with foods your body wants and needs. With 24-hour online access 7 days a week, we're here to answer your questions, help you track your progress, celebrate your successes, and support you in your weight-loss journey. A trimmer, fitter, sexier you is right around the corner, and telemedicine makes it so easy and convenient that you can get started today!